Pereless Systems works tirelessly to gather client feedback and improve our system. DashPro is a new and improved dashboard feature that provides power users a customized experience.
Users can now create a personalized home screen with the metrics and information that is important to your daily use including features such as: customizable layouts, drag and drop modules, real time analytics, and a one-click menu to navigate to anywhere in the system.
System users will have the option to stay with the Legacy Dashboard but we recommend switching to the new layout to enjoy the new functionality and top-notch technology.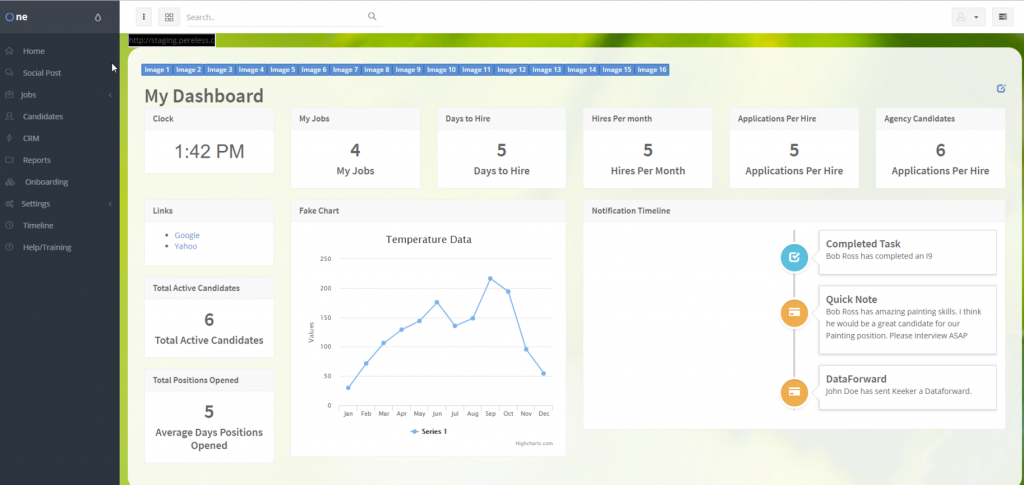 ---
Customize Your Dashboard
Clients now have complete control over their dashboard layout- including a background image! By dragging and dropping different blocks, clients can choose what reports they want to display and what metrics are most important to them. Simple layouts include 2 sections while more complicated layouts have about 10. Choose from calendars, analytics, notification timelines or simple blocks that include the date and time.
The new format also allows clients to upload their own background image or choose from the presets. Unlike competitors, these customizations are tracked and our entire support team will be available to assist with questions.
Real Time Analytics
Perhaps the most exciting part of the new dashboard is the real time analytics display. Clients can instantly view candidate flow in real time, active jobs, hires per month, applications per hire or days to hire. A tasks module also allows clients to view their tasks right from the dashboard and monitor them in real time.
One-Click Menu
You asked – we listened!  Pereless Systems strives to provide our clients with a multitude of innovative tools and features.  Since our foundation, these tools have been added one by one based on client feedback. With our one-click menu, we've made it easy for users to navigate throughout the system with just one click; providing a more user-friendly experience!
Our latest dashboard release is the first step towards our full system redesign.  Clients can register for one of our dashboard release webinars to ensure they're getting the most out of the update.  We will keep you posted on future releases coming soon!