With hundreds of job boards on the market, it can be overwhelming for HR Directors to choose the best place to look for candidates. An Applicant Tracking System such as Pereless Systems streamlines the recruitment process from job postings to onboarding.
Pereless partners with leading job boards and search engines to ensure our clients have the most exposure to the applicants they are looking for. Clients across all industries find success working with Pereless, including non-profit organizations, retail, and healthcare to name a few. However, some interesting statistics can be drawn from our retail sector as our partners have continued to provide a large quantity of high quality candidates.
A key part of the retail sector is the fact that successful hires come from a variety of experience levels.
Contrary to popular belief, the retail sector does not only consist of only entry level sales associate positions, our clients have found success filling higher-level positions such as Store Manager and Assistant Manager positions.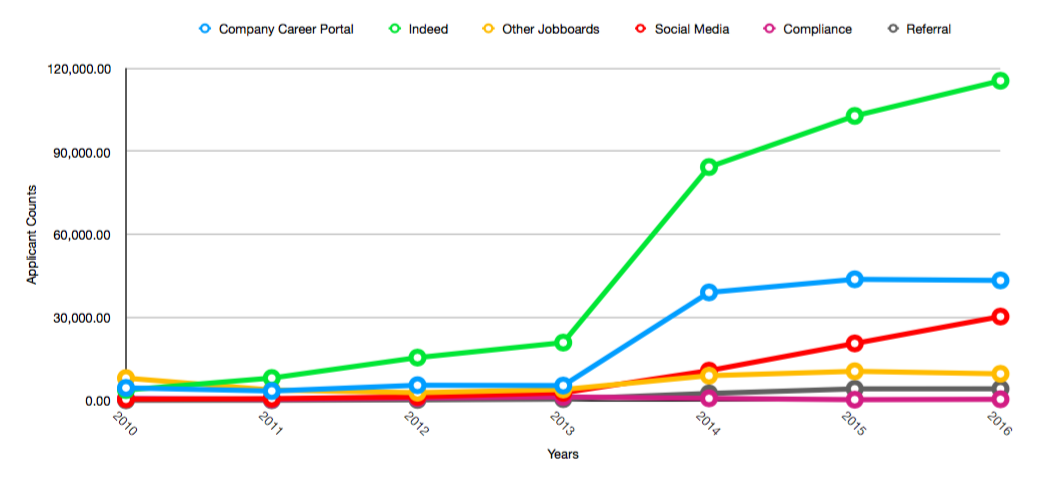 Within the past 5 years, Indeed has remained the leading source of candidates for Pereless retail clients. Looking at the data from Pereless source tracking, in total, Indeed has expanded client candidate traffic reach to more than double what a company's own career site organically brings in. Indeed brought in 115,000 applicants while other job boards brought in 10,000 applicants. Therefore, in 2016, Indeed brought in 11.5x more applicants than all other job boards combined.
Through Pereless' partnership with Indeed, when employers create a job inside the ATS, the job is shared to Indeed automatically and includes Indeed Apply.

When employers use Indeed Apply, their job listings stand out in search results on Indeed marked as "Easily Apply." Jobseekers can use their Indeed resume to apply from any device including mobile devices. Indeed Apply also supports screening questions and can be configured for most custom application processes, providing an easy, consistent application process wherever job seekers are.
For one specific retail client, Indeed accounts for 67% of applicants. Indeed Apply was the key to expanding their quantity and quality of applicants. Full page applications directly from a company career portal only accounted for 19% of applicants for their current open jobs.
Another client example shows a combination of Indeed Apply and redirects from Indeed made up 37% of applicant traffic, double the amount of traffic the company received through their company website alone.
Through these examples, it is clear that the retail segment greatly benefits from posting jobs on Indeed.
However, it is not only the quantity of job candidates that are important to our retail clients.  Our clients were able to find over 6,000 hires through Indeed. This high correlation of applicant numbers and hires also suggests that the highest quality candidate for over 6,000 job openings came to our clients from Indeed, backing their promise for quality.