Having a digital footprint online is mandatory for business growth and success in today's social media dominate world.  37% of the world's entire population uses social media; (that's 2.8 billion people)!  Startup businesses looking to gain recognition must understand the major social platforms such as Facebook, Twitter, LinkedIn, (to name a few), the demographics they serve, and the best way to use them for building a customer base and loyal following.   Social media is a unique resource that is easy and mostly free to use, so new businesses have a great advantage compared to the past.   Here are some important data points to consider when using the top 3 major platforms: Facebook, Twitter, and LinkedIn…
Age is just a number…
Yet young adults between ages 18-29 are using social media the most in general.  The graph below via Pew Research Center indicates, however, the trend for older adults using social media has increased in recent years.  The age factor is the only factor that seems to vary when measuring demographics of people who use social media.  Young users dominate, yet people of all ages, careers, and education levels use social media in general. Recent data does also shows that most people (28% of internet users) only use 1 platform.  Keep this in mind before posting out content or job opportunities.  You want to make sure you are sharing relevant content and job opportunities to the correct social platform that will reach people most relevant to your cause.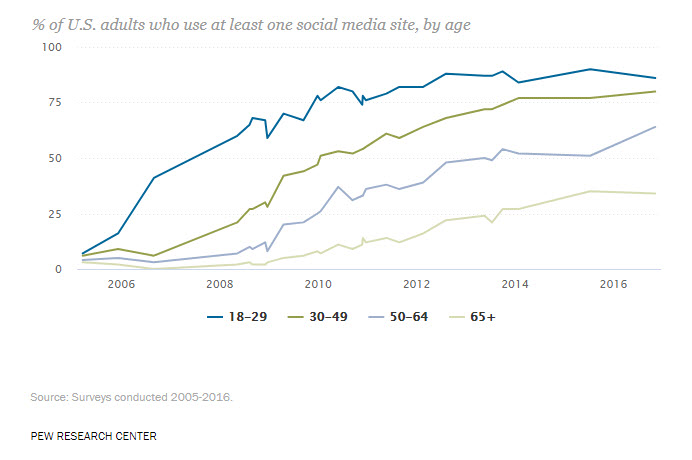 Facebook remains king…
Facebook is still the most-widely used social media site across the internet population.  Users between the ages of 45-54 are using it most, representing 21% of total time spent on the platform compared to any other age group.  Facebook is free to use, and companies can set up business pages that provide key insights into website traffic, audience reach, and with 1.19 billion Facebook users, will increase company exposure.  For the majority of Facebook users, the average time spent on Facebook is about 20 minutes.  This is huge for business exposure, and if content is posted daily, your followers are highly likely to see your posts and engage.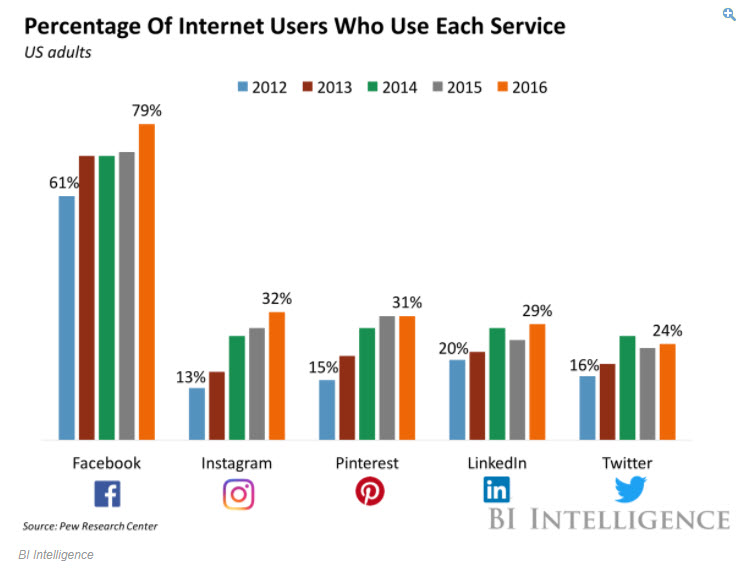 Twitter 
Twitter is a unique platform that allows users to reach audiences within seconds and using only 140 characters.  Often considered a site catering to "news junkies," Twitter is also a great (and free) platform to use for employer branding and connecting to people within specific industries directly. The use of hashtags with the ability to "attach" a person's Twitter username to posts using the "@" symbol can help with marketing, networking, and communicating with prospects.  Industry-specific content with proper use of hashtags can reach thousands of people within seconds.  Retweets of your content will increase that number even more.  Twitter is all about learning what keywords are commonly used with hashtags and applying these to your posts so those searching that keyword will see your message.   It's important to note that Twitter users spend only about 3 minutes per day on the site – a drastic difference compared to Facebook users.  That's why it's important to also discover the best days and time to post to Twitter to receive the highest impressions possible (read more on that here).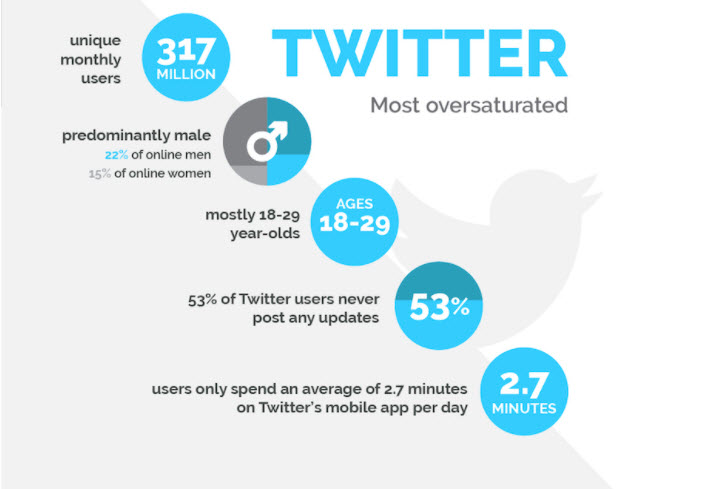 LinkedIn
LinkedIn is the leading social media platform that hosts millions of professional profiles across all industries. With a whopping 106 million users per month, LinkedIn users are less likely to use any other social media platform (take note).  Building a company page on LinkedIn can help highlight what makes your company special: company culture, the industry you serve, and also what makes you unique (and attractive to prospects looking for a new opportunity).  LinkedIn also provides businesses a career page linking interested applicants to jobs so they can apply instantly.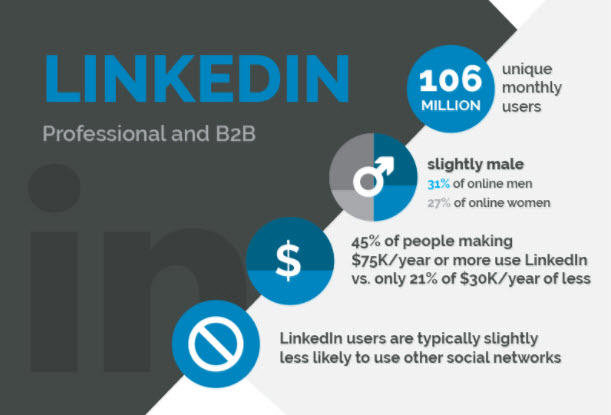 Manage Them All…
Hootsuite is a helpful social network management tool with a free option allowing you to post content on Facebook, Twitter, and LinkedIn while keeping track of progress.  You can schedule posts to push live on specific days and times of the week and select the platform(s) you'd like content to be posted.  Here's a great article detailing the benefits of Hootsuite.