Customize recruiting efforts using the E-Form builder
We built an applicant tracking system (ATS) electronic form (E-Form) tool for users to create and share internal documents and send to their talent pool.  E-forms can be used for the purpose of gathering more candidate information and/or for internal processes.  Forms are easily organized into groups and can be shared with selected or all ATS users (including offline Recruit Team Members).  You can even send internal forms out for team approval.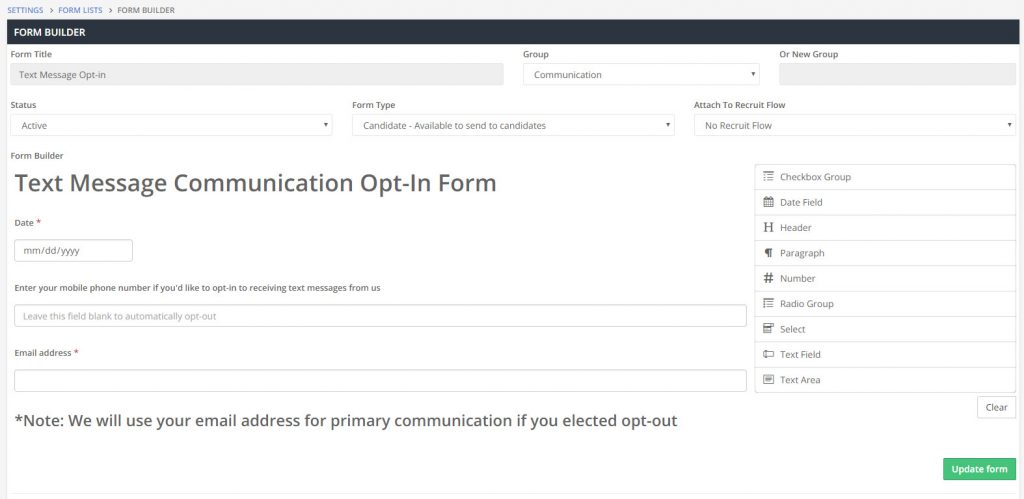 ---
Simple drag & drop functionality lets you select options from the right-hand side menu & add them to the edit box.  All modules have a settings feature for additional customization ability.
Menu Options:
Checkbox Group – Create questions allowing for multiple answer selections
Date Field – MM/DD/YYYY
Header – Text for titles and footers
Paragraph – Free form text
Number – Enter a number and set minimum/maximum
Radio Group – Create questions allowing for only one answer selection
Select – Create questions with drop down or multiple selections
Text Field – Answer field for limited text responses
Text Area – Answer field for longer text responses
---
Form Type
There are two form options to choose from when creating or editing an E-form: Internal & Candidate.  Forms selected as "candidate" will be available to send to all candidates via their applicant profile.  "Internal" forms are only viewed by team members that were granted access to the form.
Send E-Forms To Candidates For Completion

Candidates receiving an E-form to complete will receive an email that includes a secure link.  Once submitted, the form is logged into the ATS and can be viewed by system administrators and users assigned to the candidate.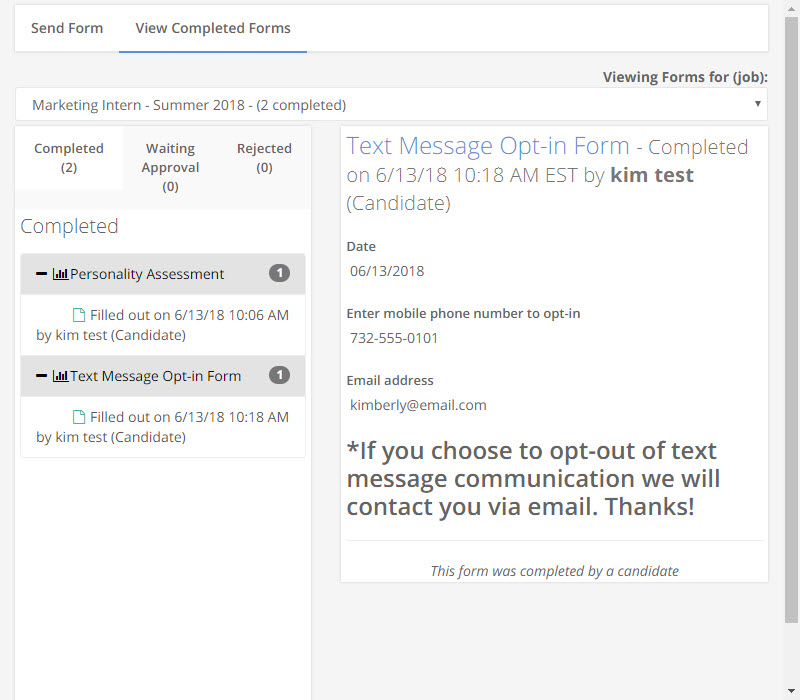 ---
Send Internal Forms For Approval
For internal E-forms, selected Recruit Team Members can participate in an approval processes if required.   Members will receive an email in the order they were placed with a secure link to view completed forms, approve, reject, and enter comments.
---
Request a demo to learn more about E-forms and get a live walk-through!