Social Media Recruiting is the process of businesses utilizing popular online platforms to attract and source candidates for job opportunities.  Using social networking sites for recruitment is a growing trend among organizations, with 84% of human resource professionals citing they currently follow this strategy.  Companies have attributed much of their success in finding quality, long-term employees to recruiting online, and have praised it for its cost effectiveness, ease of use, and its potential for reaching a large audience.  So, what are the top three websites that businesses are using for their social media recruitment strategies?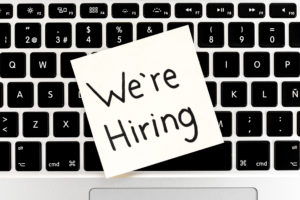 According to a study released by the Society for Human Resource Management (SHRM), in the year 2015, 96% of HR professionals used LinkedIn for social media recruiting, while 66% used Facebook and 53% Twitter.   89% used these platforms to post job advertisements while 75% contacted candidates and 73% sought out passive job applicants with specific skill sets.  Each of these platforms serve slightly different purposes, yet all are useful for finding new hires and increasing your presence on the world-wide web.
LinkedIn is a hub for business professionals that offers free and premium accounts.  Users can search for career opportunities, build and maintain relationships, and share valuable information.   Most importantly, it is a great source for employers to post open job positions and proactively search and recruit passive candidates with skills compatible to their industry (all while using the free service).  LinkedIn has millions of users, so creating a company profile, highlighting your brand, and building a positive reputation is a must if you're serious about getting highly qualified applicants into your organization.
Facebook is a free, easy to use social media site that is great for recruitment, marketing, and building a solid client base. The "Page" feature allows employers to create a unique Facebook page that includes your company name within the URL, making it easy for individuals to search and locate your business.  Users can "like," "follow," rate, and share the page with their friends, as well as leave comments and send private messages to the page owner.  Employers can connect and interact with their followers, utilize analytic tools to gain important insights to customers activities, and alert followers of available job opportunities.  If you have an awesome company culture that is consistently showcased through Facebook, your loyal fans will line up to become a part of your team when the opportunity arises!
Twitter is a completely free social networking site allowing its members to share bits of information instantly.  For employers, one of the most important elements of this platform is the use of "hashtags" (or keywords), connecting your posts to a general topic.  For example, your company has an open position for a human resource manager, and you'd like to post this out to the Twitter-sphere.  Researching a commonly used hashtag (in this case, #HR), then including it within your post along with a link directing individuals to an application will get your post visible to all Twitter members who search for that specific hashtag.  Include as many hashtags as you'd like, however there is a 140 character limit per post, so use them wisely!   Users can also follow your account and "Retweet" (or share) your posts, getting your job listings maximum visibility within the Twitter world.
In the modern technological age, social media recruiting is the new method for publishing job opportunities and marketing your company brand. With an increasing number of business professionals embracing these strategies, your company cannot afford to skip out on it!